How to Grow on Twitter as a Financial Advisor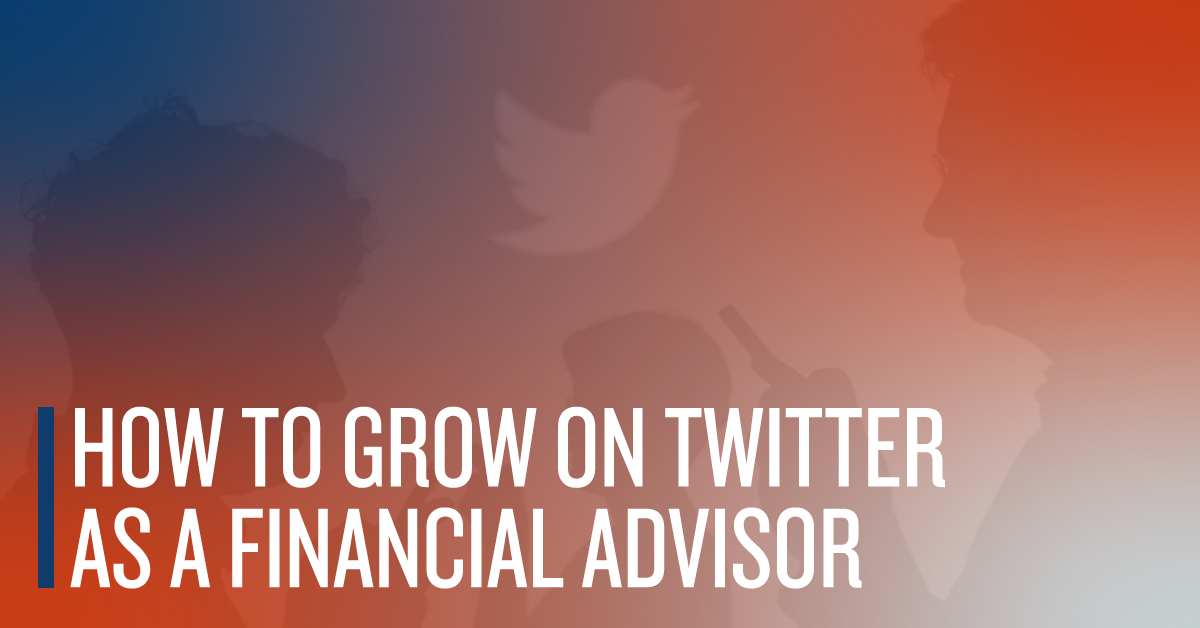 By Jordan Collins
Tucker Advisors Senior Digital Marketing Specialist
Table of Contents
Click the links below to jump to a client appreciation event page section specific to your needs.
Today we will show you how to grow on Twitter as a financial advisor. Before we dive in, we want to explain how this can inform and grow your financial advisory practice.
Twitter has been around since 2006 allowing users to share their thoughts in small bite-sized chunks. Each day there are 500 million posts from 326 million monthly active users ranging from athletes to politicians. Since its inception, Twitter has changed a lot. 
In 2015 Google added tweets to its search results breaking away from platform-specific messaging and further embedding Twitter in the online framework. In recent years, it has become renowned for being a place of misinformation, outrage, and immediate feedback through crowdsourcing. At this rate, you may be asking yourself, "why would I engage on this platform?"
The answer to this question is simple; word of mouth. 
Financial advisors have a vibrant community on Twitter called #FinTwit. FinTwit stands for Financial Twitter and it is a great way to see what other people within the industry are talking about, trading, and even posting daily information from the markets. 
Many of FinTwits' users will have lists of the people they follow, their designations in their title, and will help other financial advisors in their understanding along the way. It can be a lonely world out there for independent financial advisors but on Twitter, you have access to many people doing the same thing as you. An added bonus is that in making these relationships you are networking and getting a more personal interaction than you would on Linkedin. The other advantage is that logging in remotely allows you to connect with people independent of being at a conference or needing to be somewhere physically. 
As a financial advisor checking out Twitter for the first time, you might be wondering "Why do I care what these advisors are talking about online?" The answer is because this is the new common space where you can attract new clients and partnerships. According to a new survey from Credit Karma, 56% of Gen Z and Millennials intentionally seek out financial advice online or through social media, and YPulse's data shows that the internet is one of their top sources for financial advice as well.
The advice that we seek and choose to take in is everywhere around us. We all have sources that we trust and do not trust. This is why it is important to show who you are through your profile. Now that we know we can connect to this powerful network, let's talk about how to set up your account and show you how to grow on twitter as a financial advisor.
Free Guide: High Profile Use of Annuities
Setting Up Your Twitter Account
Go to twitter.com/signup and click sign up. You'll be guided through their setup but if you'd like more in depth information you can also go here for step-by-step instructions. 
One thing worth noting on Twitter is that there are company accounts and personal accounts. It makes sense to have these separately but within FinTwit, most of the people you are interacting with have a more public-facing personal account. For example, they may have an account that is their business name and logo putting out updates but then have an account for their thoughts and interactions. We would suggest the latter as it is more personal for what we are trying to do which is to make connections and network.
After you've completed the initial steps of your account it is time to fill out your profile. There are 3 main components you should fill out right away; your bio, your photos, and your pinned tweet.
Your bio consists of 160 characters that sums up your financial advisor Twitter account. This bio can contain text, hashtags, emojis, and handles of profiles you're affiliated with. Some Fintwit users will also add cashtags. Cashtags are a feature in Twitter allowing users to click on stock symbols and see what the "Twitterverse" is saying about them. If you have qualifications or designations like CFP® or your series 65, add it to your bio. If you need inspiration around what to put in that space, be sure to visit other profiles and see what information structures you like. If you're using Twitter for your financial advisory practice, over time, your bio will change. 
Next you want to add your photos. You have profile space for 2 photos, your profile picture and your cover photo. Your profile picture should be a picture of yourself to identify that you are a real person and not a bot. Your cover photo can be anything you want from an advertising space where the image contains your website or just something you enjoy like a band or family photo further showing that you're a person interacting online, just like them. 
Lastly, you'll want to write a pinned tweet. A pinned tweet is a tweet that sits on top of all your other tweets as the first tweet people will see when visiting your profile. If there's a message that is most important to people seeing your profile, put it here. This can include a link to your new blog piece, your business website, or whatever you'd like to turn their attention toward.
Bonus: Twitter has an analytics dashboard. You can use your login and password to access information on how your tweets are performing. This will help you pinpoint what people are engaging with and what they are not. Use this to inform what content to share.
Who should you follow on Twitter?
Our Twitter is all setup and we are ready to interact but who should you follow? To start, you should take in the landscape.
For every account on Twitter, you can visit their profile and see who they follow. This is a great starting point as you will need to follow people to have people follow you. From this point of view, you want to choose people who are like-minded, want to talk about the same topics as you, and who engage with those who respond to their tweets. It's great to have a large follower account but if nobody is interacting with your tweets, you will not reach the number of people you want. 
One of the greatest features on Twitter is its list function. On Twitter, you can go to anyone's profile and see if they have any public lists. Often these lists will be labeled with who the people within the list are.
For example, if you go to Tucker Advisors Twitter account you can see that we have created our own list of accounts and we follow lists from other accounts. These lists range from people who are adviser influencers to FinServe Friends & Experts. This is an easy way to cut through the noise and see who are the more influential players in the space. We suggest following 20-50 accounts per day as this will both gain you more followers and get your feet wet with the community. This will lead to more profile visits from people you have followed wondering who you are and generating traffic to your pinned tweet. If you are consistent, you will hit a max follow limit at some point. There are Google Chrome Addons, Firefox plugins, and other tools that can help you clear people from your list who you won't interact with. Now that we've seen how to get people to our profile and populate our feed, we need to decide what we want to say. Posting is extremely important for you to grow on twitter as a financial advisor

What should you post on Twitter?
Knowing what to post and what not to post on Twitter as a financial advisor sounds tricky but after a few weeks of following #FinTwit it's like riding a bike. Once you get in motion, you have a general idea of what to do and what not to do. This is why it is important to follow accounts of aspirational advisors, public figures in insurance, and industry professionals. They can contextualize how to garner a desired response and let you test what ideas help you advance on the platform.
As a general rule of thumb, we would not suggest sharing content that requires compliance approval. Post about things that are relevant to your prospective audience and respond to others in kind. Using media like video and photo will improve your interaction rate on Twitter but be sure that you are not uploading copyrighted material as it may get your tweet removed. If you want to share an article, quote tweet or post a link. Many of the articles you read online have a Twitter symbol at the top of the page to share it to social media.

Grow Your Financial Advisory Practice With These Twitter Tips & Tricks
On Twitter, we suggest an active approach to your follower list. This means following people that are relevant to what you're doing once a day and unfollowing unresponsive accounts once a month. This will keep a continuous loop of new people visiting your profile while you remove users who are not engaged with the community in a meaningful way. Some may find this transactional but the tool has a built in feature to not follow someone more than once. This way you only interact once and if they're not interested, we won't bother them again. If they follow back, we now have a new follower and someone else who wants to interact. To do this quickly, look into SuperPowers for Twitter's free Google Chrome or Firefox plugin. 
If you want people to engage with what you are doing, engage with what they are doing. If you don't want to engage with what people are doing, you are following the wrong people. Twitter is an incredible tool if you are selective about the people that you choose to interact with. Do not spray and pray with marketing your business as it will not reflect positively on you as a professional. 
Visit the profiles of big accounts and businesses and follow their lists. Here's a link about how you can follow others' Twitter lists. These lists are gold! You can find accounts and information quickly and create custom lists specific to topics in a way that will be 10x faster than searching around on Google.
Our last tip is to learn Tweetdeck. Tweetdeck is a fully customizable Twitter feed aggregating tweets from multiple lists in 1 heads up display. This will allow you to consume and interact information at a speed where you can finish all of your Twitter time in less than 15 minutes each day using a powerful tool. The best part is, it's all free. If you're thinking about joining Twitter as a financial advisor, feel free to reach out to us on our contact page or send us a direct message on Twitter.
Sources:
https://www.thedrum.com/opinion/2021/09/06/why-twitter-making-comeback-one-the-most-popular-social-channels
https://www.thestreet.com/technology/history-of-twitter-facts-what-s-happening-in-2019-14995056
https://www.alphaexcapital.com/fintwit/
https://help.twitter.com/en/using-twitter/create-twitter-account