An expert in building relationships, Kyle uses his laid-back and honest personality to get to know his advisors in a way that builds long-term relationships. He truly focuses on each advisor he works with so that he can help them improve their business- regardless of the size of the firm. Kyle meticulously looks at how his advisors are running their operations by performing audits to uncover where they could improve. He then ensures they get what they need—be it marketing, product, consulting, or coaching.
"My role, and ultimate goal, as a business consultant is to help my advisors find qualified business and help them close that business! I'm thorough with my audits and ask detailed and pointed questions of my advisors so I can offer them intentional advice and be their trusted resource—someone who helps them support their current business, while nurturing new leads," said Kyle.
Kyle graduated from Emporia State University in 2015 with a bachelor's degree in education, something he uses every day when working with advisors. He understands advisors' busy schedules make it difficult for them to stay current on all the rules and regulations, so he continuously reads and learns industry changes and trends so that he can then use the information to educate his clients and keep their practices adapting to the changing environment.
Outside of work, Kyle loves spending time with his wife, Devan, and their daughter, Camryn, as well as playing with their two puppies, Copper and Hershey. He also enjoys hunting, fishing, golfing, and staying active with friends.
"Relationships are what build businesses—my relationship with my clients helps me improve their business, and their relationships with clients helps them better prepare their clients for life".
Kyle Savner
vice president of sales
Kyle.Savner@TuckerAdvisors.com | 720.763.3098
SIPS Report
Your Prospects' Retirement on One Page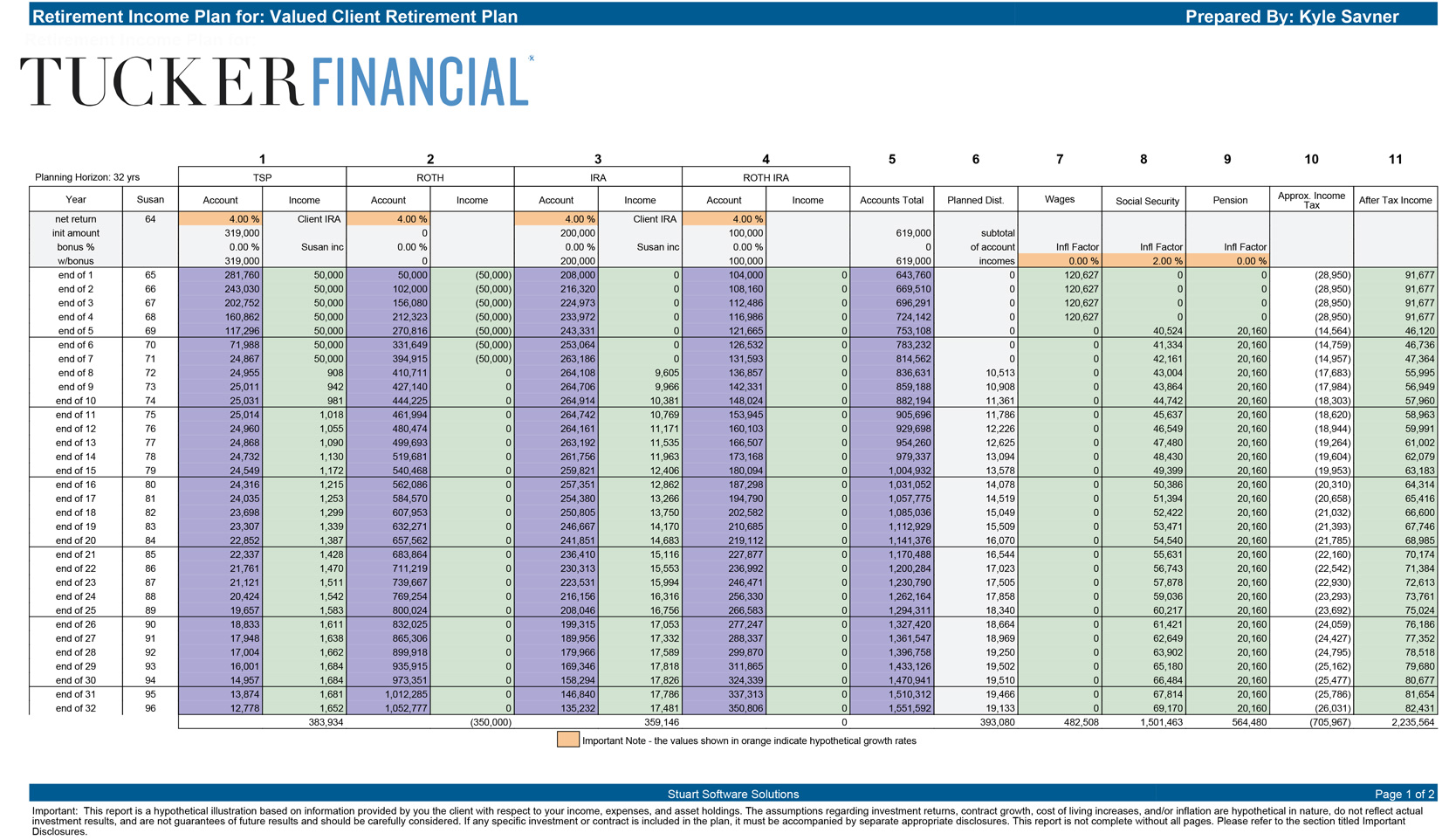 SLEEK, MODERN & PROFESSIONAL
It is more important now than ever to have a digital presence online. Tucker's marketing team understands the disciplines that encompass all areas of web design, from production to maintenance of the site. Don't get lost among the endless stream of outdated, static advisor websites. Let our team show the world what you can offer them.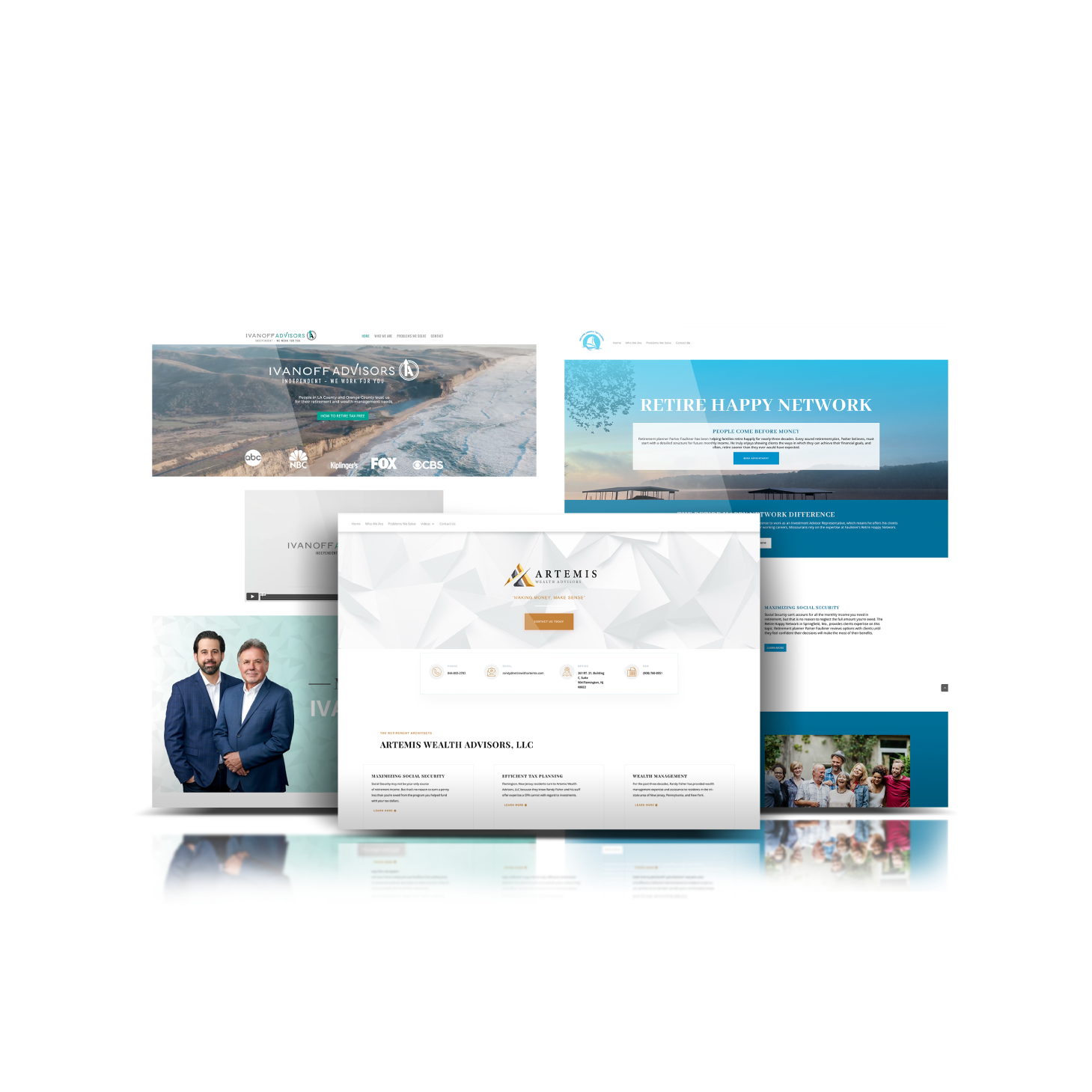 TRAINING
Educational Information for Best Practices
Karlan Tucker's Advanced Sales Training
Most mistakes financial advisors make are not intellectual missteps. They arise from not asking the right questions, failing to listen carefully enough to prospects and clients, pushing the wrong plans on people who haven't been properly prepared to accept them. Karlan Tucker understands the all-important psychological aspects of financial advice, and he details many of them here in these videos about his appointment process. At all times in this process, he is fully aware that people's life savings are naturally huge emotional investments, as well.
FROM OFFICE SUPPLIES TO SEMINAR MATERIAL
Tucker Advisors understands your brand's values. We know how important it is to keep your brand image at the forefront of customer's minds. We have a wide variety of products to choose from that can boost your companies' curb appeal. Whether you are interested in promotional branding or simply sending a unique customized gift to say thank you to a customer, Tucker has the perfect item for you to stand out from the crowd.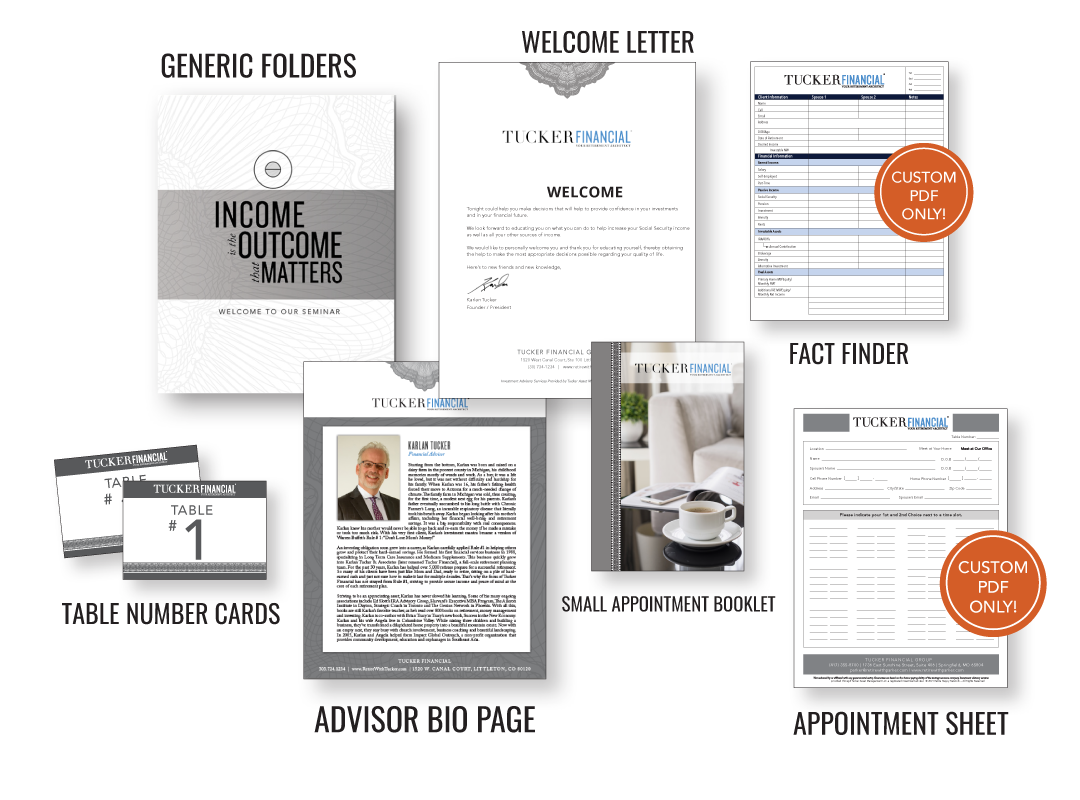 LEARN MORE
Description & Pricing
• Welcome Letters
• Advisor Bio Page
• Appointment Booklets 8-Pages 5.5″ X 8.5″
• Table Number Cards
Set of 50 – $225
Set of 100 – $385
Set of 150 – $535
Set of 200 – $715
Contact Kyle
Let us know how we can help you