Digital Marketing vs. Digital Marketing Strategy
Knowing the difference could mean extra cash in your pocket.
Tucker Advisors Senior Digital Marketer Jordan Collins speaks on the various digital marketing channels and strategies to use them to their full potential in the coming year . 

This presentation was given at the Tucker Super Conference XVI in January of 2021 and is only for financial professional use. Insurance-only agents are not licensed to offer investment advice.
Jordan Collins speaks on the different marketing methods available and dives into why you should be using digital marketing to improve your financial advisory practice. One of the motivating factors for this is that over the next 30 years the Baby Boomers will pass $30 trillion dollars to their kids over the next 30 years. Many millenials and future prospective clients dont trust anyone for financial advice and this is an opportunity for financial advisors to grow through digital marketing.
Digital Marketing For Financial Advisors
The first thing you want to do in creating a digital marketing strategy for a financial advisor is to define their ideal prospect. If you don't know who you are trying to reach and what you'd like to say it will be very difficult to measure how effective your campaign is. To do this, we need to think about a few key questions:
-Who are my ideal clients?
-Where do they congregate online?
-Where are people most receptive to my message?
-What are my strengths? What are the strengths of my team?
The answers you have to these questions will inform not only your digital marketing channels but also your digital marketing strategy. A good way to understand your audience is to use your historical knowledge of your financial advisory practice to think like one of your clients. If you can create campaigns that entice their interest, you will have more success.
Digital marketing for financial advisors requires you have an organic and paid strategy. If you are new to organic and paid media you will need learn about the differences between the 2 to fully take advantage of their features.
Paid marketing is like a faucet, when you are spending it's constantly on. When you aren't spending on ads, it's completely off. if your immediate goal is to grow brand awareness and have your materials in front of your audience this is what you're looking for. The downside is that when your budget is gone, so is the traffic.
In organic marketing, you are creating website content and search engines are cataloguing your website based on keywords and topics. This form of marketing won't yield immediate results but the big picture result is more visitors to your website that have a qualified interest in the topics and keywords your website is about. Search engine optimization is a great long-term investment in you doing more business with motivated individuals searching for your services.
Mixing paid and organic marketing is the optimal strategy to have short-term attention and long-term website traffic growth. To create an effective Digital Marketing strategy for a financial advisory firm requires and understanding of the marketing cycle.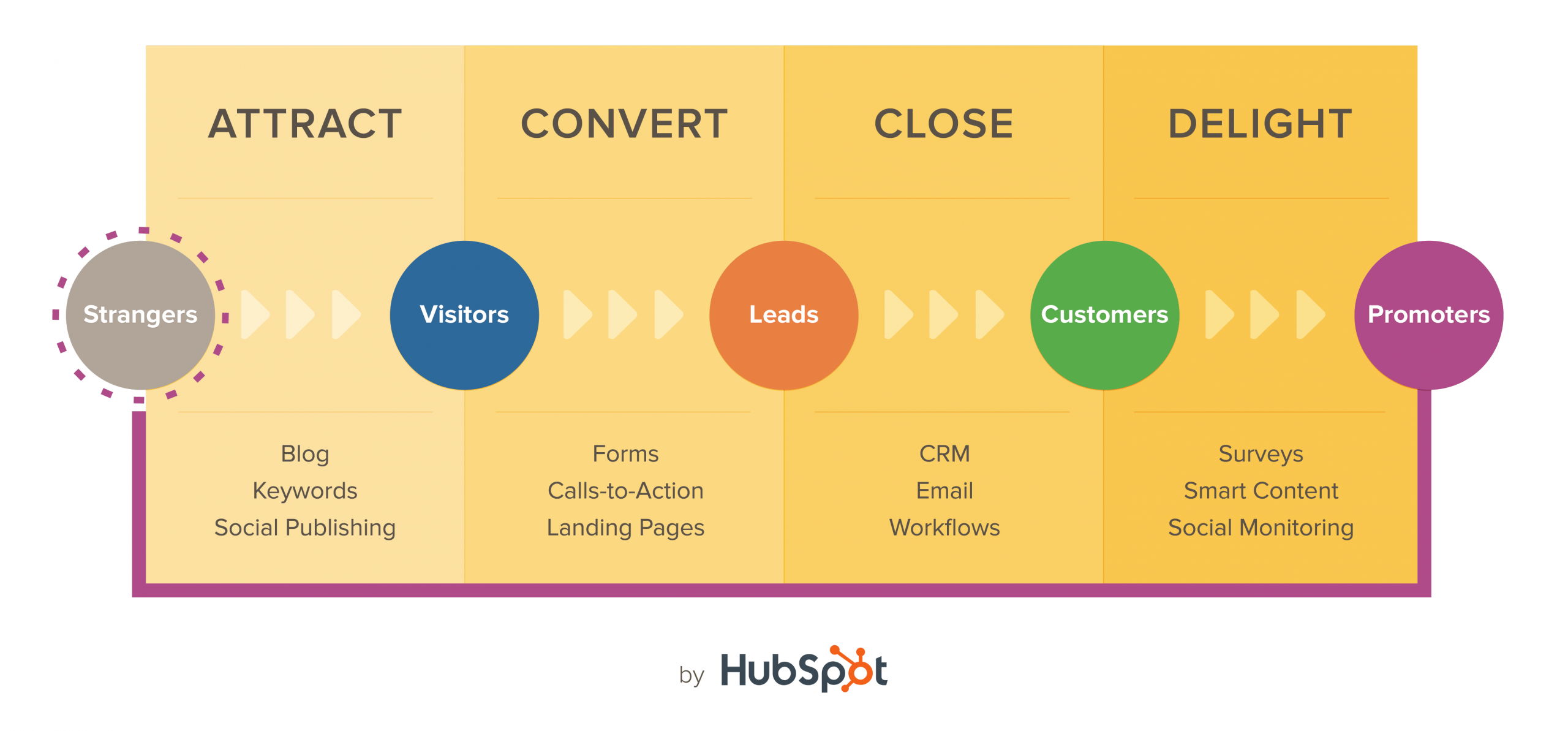 Digital Marketing Strategy For Financial Advisors
Digital marketing strategy is about understanding your audience and what they want from you. Showing someone an ad that doesn't interest them will not attract them to your business. Trying to sell too early in your relationship will not attract them to your business either. It's important to understand the journey that clients and prospects take from being total strangers to using your services. Reference the infographic above from Hubspot to understand the digital marketing funnel.
To attract prospects you'll want to:
-Help users with a problem
-Show them the wholesome aspects of your community outreach
-Delight them with a tool they can use or a useful piece of content
*Hint: See what your competitors are doing and whether it is effective.
Digital Strategy Food For Thought:
-What's the best strategy for your practice?
-What are you and your team's strengths?
-What do your current customers want from you?
-Could your pain points be turned into content?
-What is your budget?
-What does your website say about you and your business?
-Do you or your team have the ability to write, make videos, or graphics to illustrate your knowledge?
-Do these platforms contain the people that you are looking for?
-How can you best qualify your leads?
If you can answer these questions, you will be able to easily identify marketing channels to use and which to eliminate.  
Explore Super Conference 2021
If you're on this page, you probably missed the 2021 Tucker Super Conference. No problem! Click on the image below for access to all of our recorded sessions.